Welcome to Rainmaker Sportfishing Charters
>>>
NOW FISHING 2 BOATS!!!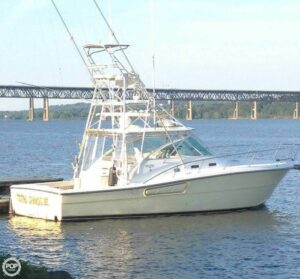 Spring 2021, we've added "TOTAL CHAOS" a 38 foot Rampage Express Cruiser to our fleet of outstanding boats! We're getting it ready for Lake Michigan and will be starting to fish from it this June!
BIGGER, FASTER, FUNNER!!!
Charter fishing trips in Kenosha County Wisconsin and the Winthrop Harbor Illinois areas of Lake Michigan for salmon and trout with Rainmaker Fishing Charters.
Celebrating our 30th Year Chartering! Come Join Us!
Welcome aboard Rainmaker Sportfishing Charters in beautiful Kenosha, Wisconsin. Kenosha is rated the #1 Harbor in Wisconsin for salmon and trout charter fishing and has the highest fishing CATCH-PER-HOUR rate in Wisconsin.
Rainmaker Sportfishing Charters offers only the highest quality charter fishing trips on board the fully equipped and insured 36 foot Rainmaker IV and the NEW 38 foot Total Chaos charter boats.
Come and experience on Lake Michigan Salmon and Trout Fishing at its best!
Kenosha, Wisconsin is a short drive from most major midwest cities. We are centrally located to "The Hill" a 27 mile piece of structure only 3 miles offshore that produces more salmon & trout than anywhere in the world!
Three weeks later I reintroduced the Phentermine
What are you waiting for? Book your next Lake Michigan salmon and trout charter fishing trip NOW and have an unforgettable charter fishing trip right here in Kenosha Wisconsin!
I have been on multiple muscle relaxers and they all suck except for Soma