Best Times To Charter Fish Kenosha Wisconsin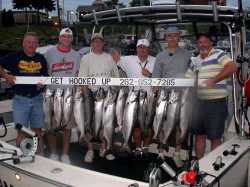 One of our most commonly asked questions is, when is the best time to go fishing? While almost any time is a good time to go fishing, the real answer to the question depends on what type of fish you're looking to catch? Do you want to catch BIG FISH or just lots of fish?
While every year offers different fishing results, there are some basic patterns that we can follow to give us a general idea of what is happening from one month to the next. We've had a great season throughout the year, averaging 17.5 fish a trip!
The following is a summary of a typical season aboard the RAINMAKER IV, fishing out of Winthrop Harbor and Kenosha Harbor. Use this as a guide as to when you might want to plan a charter.
MAY – May started with a bang, bringing great catches for the first 15 trips. Mid-May brought some King and Steelhead action along with the Coho's.

JUNE – June started with an average of 20 fish per trip. Mid-month once again brought Northeast winds, adding more excitement to the fishing experience. This was great for the hardcore fisherman. Although waters were rough, the fishing was good.

JULY – July came in like a lamb but went out like a lion. The Kings started hooking up early in the month, and were heavy by month's end. This month also brought a two-week period of good sized Steelheads. In addition, there were some nice catches of Brown Trout, as they showed up in large numbers to make their way to the spawning grounds.

AUGUST – August was a full solid month of fishing. Fishing at sunrise, brought some big four year old Kings. These Kings will stage about four miles out in the lake, getting ready to spawn well into the Fall. This gave us an opportunity to catch fish in the 20lb class. August is also a good month for spawning Cohos.
Best Charter Fishing Times By Specie
| | | | | | |
| --- | --- | --- | --- | --- | --- |
|   | Coho Salmon | King Salmon | Steelhead | Lake Trout | Brown Trout |
| April | Good | Slow | Available | Slow | Good |
| May | Peak | Available | Peak | Available/Good | Peak |
| June | Peak | Available | Peak/Good | Peak | Slow |
| July | Peak | Peak | Peak | Peak | Available |
| August | Good/Available | Peak | Peak | Peak | Peak |
| September | Available | Peak | Available | Good | Available |
| October | Available | Peak | Good | Available | Available |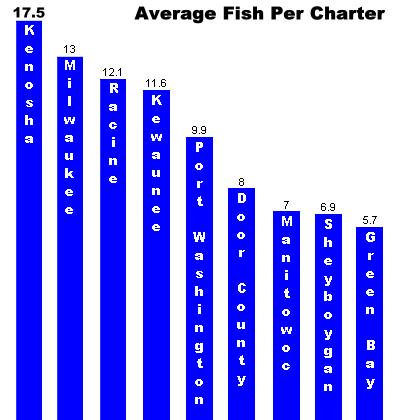 WE HAVE BUILT OUR REPUTATION ON OUR ABILITY TO FIND
AND CATCH FISH WHEN OTHERS CAN'T!
THERE IS A DIFFERENCE! RAINMAKER IV SPORT FISHING CHARTERS